ON SUBMISSION (ADULT): PASIPHAE'S PLAN (THE RED CANDLE)
Two powerful witches, millennia apart. One red candle that can summon soulmates, even when separated by oceans of Time. The fate of a kingdom, the gods, and the world, all hanging in the balance. Don't worry; it's all part of Pasiphae's plan.
PASIPHAE'S PLAN is a 90K-word genre-bending, dual-timeline romantasy that gives Pasiphae—Ariadne's mother—the epic adventure the classics denied her. It's conceived as a duology or trilogy starter but also works as a standalone. PASIPHAE'S PLAN combines the snarky goddess narrator of Claire North's Ithaca, Maya Deane's Wrath Goddess Sing queer reclamation of Greek myth, spice levels similar to Katee Robert's Dark Olympus series, and a multiple POV cast like Olivie Blake's The Atlas Six.
Thanks to my wonderful agent, Lauren Bieker of FinePrint Literary, this book is currently on submission!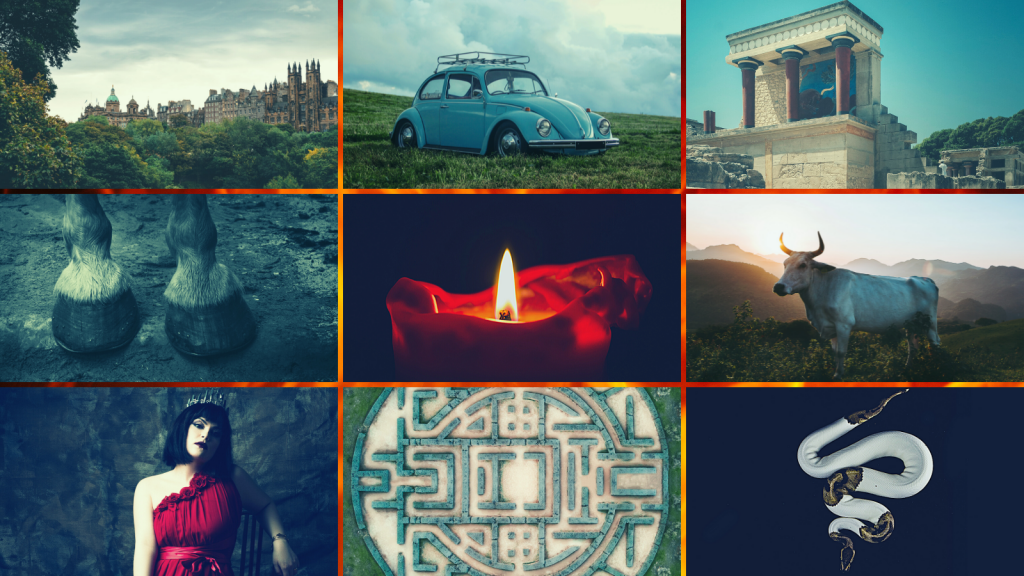 Ever since she trapped her abusive husband in the Labyrinth, snake-shifting Queen Pasiphae rules Minoan Crete with a steady hand. But in her dreams, she can see a fiery future—the fall of her Knossos palace. When a strange woman stranded in time crashes her court with the help of a magical red candle, Pasiphae thinks she's found a way to save her world… or at least herself.
Putting aside her growing attraction to the strange woman, Pasiphae has six months to decipher the candle's magic and reverse engineer it. If she succeeds, she will be able to visit the future and learn how to save Crete; if she fails, her island will go down in flames, just as her dreams warned her. Either way, Pasiphae's actions will change the world and her loved ones' lives forever.
In modern day New Orleans, Hoodoo root worker Anje sells magical red candles that help people find true love. They work: Anje's best friend used one to summon her soulmate—who happens to be a 4,000-year old centaur. Now, Anje and her friends are tackling risky relationships and supernatural threats, not knowing they're all key players in Pasiphae's plan.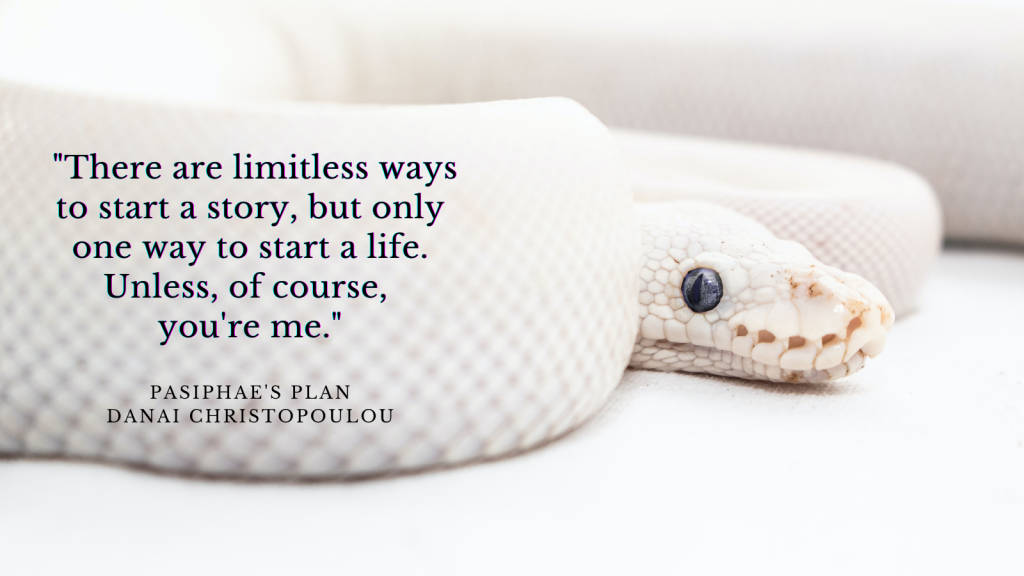 ---
ON SUBMISSION (YA): CURSED THE DEER
(co-written with A.J. Van Belle)
Blessed the deer who bows to Her. Cursed the deer who strays from Her.
Complete at 74,500 words, CURSED THE DEER is a fast-paced, dual-POV YA fantasy steeped in Greek myth, with young women who fight to subvert god-given narratives as in Lies We Sing to the Sea, the slow burn sapphic romance of Girl, Serpent, Thorn, the creepy forest of The Luminaries, and the cult vibes of Midsommar. CURSED THE DEER has a growing audience on social media platforms; its hashtag has accumulated more than half a million interactions. The book has also attracted initial interest from European editors, and Sunday Times bestselling author of THREADS THAT BIND Kika Hatzopoulou is ready and excited to endorse CURSED THE DEER.
Thanks to our wonderful agent, Lauren Bieker of FinePrint Literary, this book is currently on submission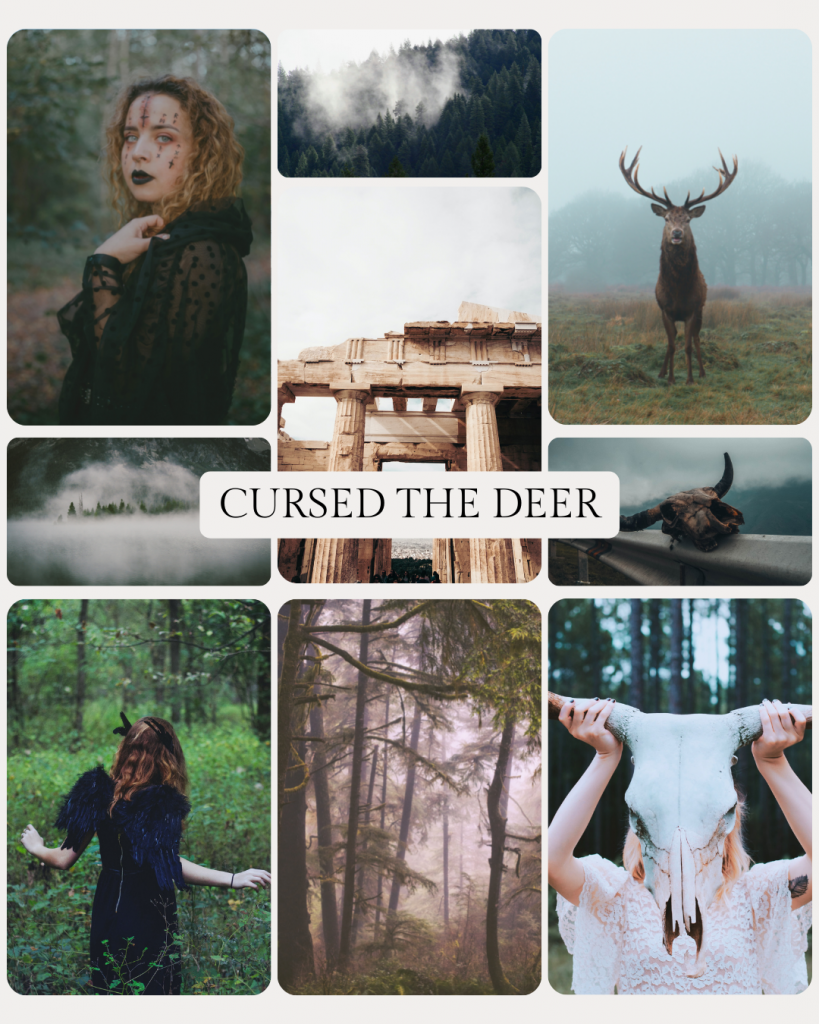 They told her she would marry Greece's mightiest hero. Yet the only thing awaiting 16-year-old princess Iphigeneia is a blade, wielded by her own father. Offered as a sacrifice to appease Artemis so the Greek fleet can sail to Troy, Iphigeneia realizes neither gods nor heroes will save her. She'll have to use her semi-awakened magic and save herself.
17-year old Daphne hasn't run for a long time—not since she escaped Apollo by turning herself into a laurel tree. She's happy to let the world fend for itself, until the day she meets a princess in need of saving and remembers there are some things worth finding your humanity for.

On the run for their lives, Iphigeneia and Daphne stumble upon a Temple outside of time that may be a sanctuary … or a trap. The Priestess welcomes them with open arms, but the Temple is built on moonlight and lies, and the only way for Iphigeneia and Daphne to thrive within its walls is to obey her in all things. They have no choice but to join the monthly Hunt that culminates in the killing of a deer. And to ignore the mysterious disappearances of some of the acolytes—as well as the horrific visions of dead bodies, skeletal trees, and Time burning that plague them both.
When a new arrival helps Iphigeneia and Daphne learn the unsettling truth about the Temple and discover the Priestess's plan to grow its reach until it swallows humankind, the girls must choose: stay together forever—or save the world from the sinister Priestess who rules their new home.